Two by-elections: Stoke & Copeland
Monday, 27th February 2017
Last week saw two Westminster by-elections on Thursday - both Labour defences, the first in Stoke triggered by the resignation of Tristram Hunt, and the second in Copeland triggered by the resignation of Jamie Reed.
The double by-election created a focal point for the UK political betting landscape for the last few months, being easily the two most traded UK political markets and being seen more widely as key tests of party leaders and potential leading indicators of party performance in future wider electoral tests.
Betting on the Copeland by-election, illustrated above, was the more straightforward of the two, despite it being ultimately the more significant result, as Conservative candidate Trudy Harrison gained the seat from Labour, the first gain for a governing party since 1982.
Despite the unusual nature of the result, the betting market had this outcome as favourite throughout the period that we monitored it, with the margin of certainty only increasing as the betting played out.
In the Stoke by-election by contrast, the betting was at least at points considerably tighter, as illustrated above.
Labour were the original favourite, but for a considerable period UKIP and Labour were essentially neck-and-neck, with UKIP the favourite for several relatively brief periods.
Only when it started to all unravel for Paul Nuttall as he was accused of lying about his claims to have been present at the Hillsborough disaster when he was 12 did the market reopen a an increasingly wide, an ultimately accurate, lead for Labour.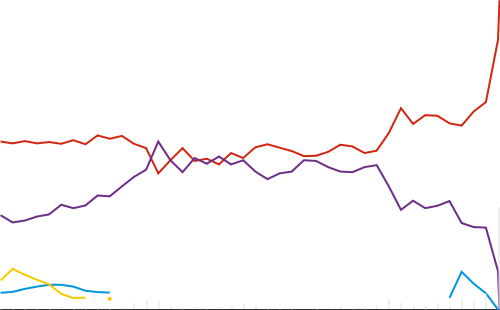 The full Stoke By-election 2017 historical betting odds are also now available to purchase. The 11,925 point data set covers the period 2017-01-13 to 2017-02-24 in 5-minute intervals.
Find out more
Suggested posts