Zac's failed gamble: Richmond Park by-election
Monday, 5th December 2016
With less than a month left in the year, we can add another entry to the list of 2016 political upsets.
The Liberal Democrats had their ranks in the House of Commons boosted by a mighty 13% as Sarah Olney won the Richmond Park by-election.
A comparative newcomer to politics, Sarah Olney said she felt compelled to join the Liberal Democrats after seeing their wipeout in the 2015 general election.
Zac Goldsmith argued that the by-election was referendum on Heathrow Airport expansion, but the Liberal Democrats in turn claimed it was a referendum on Brexit.
Whether the Lib Dem strategy worked, or whether lingering bad feelings about Zac's poorly executed mayoral campaign were involved, we will never know. But since 70% of voters in the constituency are estimated to have voted Remain, it seems likely Zac's Eurosceptic stance was not helpful.
On the betting front, the surprise result meant another result against the markets-as-best-predictors-hypothesis.
On October 26 - as we started tracking the market just over a month before the vote - the betting market did in fact have the candidates at almost exactly even odds. But once again, the markets fell victim of excessive over-reliance on polls. Once the only public poll was published, showing a massive 27 point lead for Zac, markets moved towards Zac and stayed there.
Even as late internal Lib Dem polls shared with The Guardian suggested the party had the edge, markets weren't buying it. But as soon as the polls closed last night, the size of Lib Dem smiles at the count suggested the extraordinary had indeed happened. Markets moved fairly quickly and once again 2016 presented us with another impressive crossover result betting chart.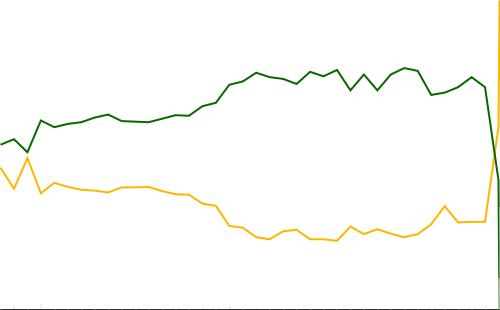 The full Richmond Park By-Election historical betting odds are also now available to purchase. The 10,824 point data set covers the period 2016-10-25 to 2016-12-02 in 5-minute intervals.
Find out more
Suggested posts